"The best time to plant a tree was 20 years ago. The second best time is now." – Chinese Proverb
Grow Your Own Kratom Trees: Non-Rooted Cuttings
PLEASE NOTE: FREE & EXPRESS Shipping are Not Available for Plant Purchases.
Our new Red Vein Kalimantan kratom trees are very attractive, they offer a unique aesthetic elegance which makes this a truly special red strain. These Red Kali trees grow much faster than most strains, more or less as fast as our Green Elephant strain. The leaves are often long & slender while some are very long and wide, which makes it an interesting hybrid. The leaf colors range from dark to yellowish greens with beautifully crimson veins flowing through them like red rivers drifting with vessels of nutrients…
We have Live Kratom cuttings for sale between Spring & Fall. We generally have the following options (not all are available at all times, however): Green Elephant, Red Vein Kali, Rifat,  Green Malay, Red Vein Thai & BumbleBee strains. Check back often for updates. Cuttings are shipped without roots, it is the customer's responsibility to root the plant. Rooted Plants are shipped pre-rooted, in a small container ready to be transplanted into your garden. (Please allow up to 2 weeks for the preparation & shipping process for non-rooted kratom Cuttings). Cuttings & Plants range from around 2 – 6 inches, it all depends on the availability of the source trees. Up 2 cuttings can be shipped in one package (additional shipping/handling costs will be applied for anything over). Please read our full Plant Terms & Conditions regarding our policies 'prior' to purchase.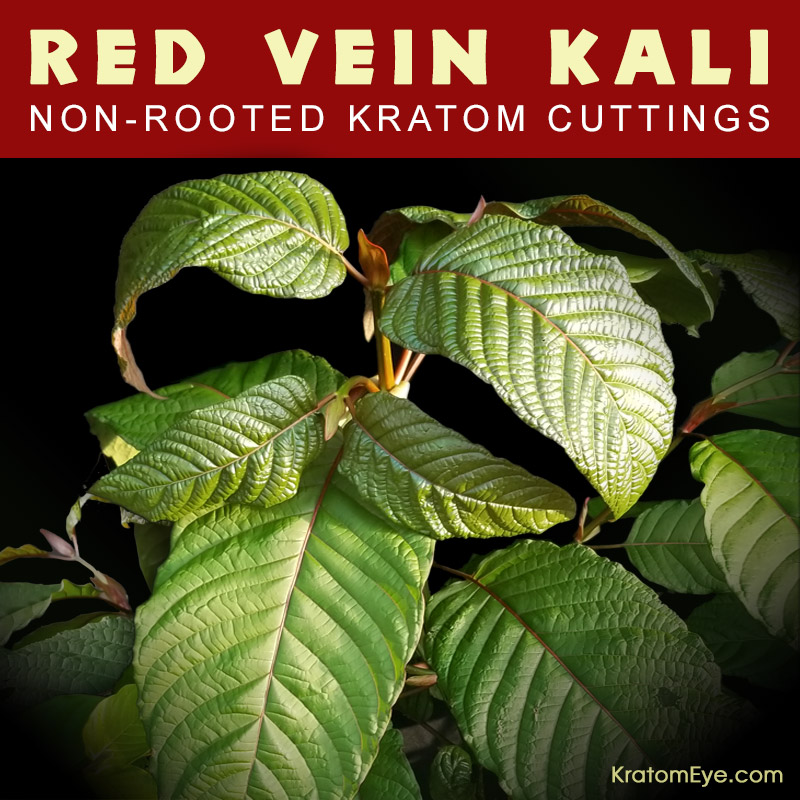 All kratom trees seem to produce a variety of vein colors throughout the year. Our experience in South Florida has shown that the hotter months bring forth more of the Red Veins and the cooler months produce more White & Green Veins (we could be wrong, the stimuli could be unrelated to weather or temperature altogether). This is purely anecdotal, please conduct your own research on kratom trees and proper care as well as how they would thrive in your climate.
---
*Only available from late Spring to early Fall to non-tropical regions. Availability depends on location of shipping address. These are tropical plants and can easily wither in colder climates even during the shipping process.
---
Kratom is not FDA approved for human consumption. Our products are not intended for use in the diagnosis, cure, mitigation, treatment, or prevention of any disease or medical conditions.