CALL TO ACTION: How to Fight the FDA's War on Kratom (Instructions)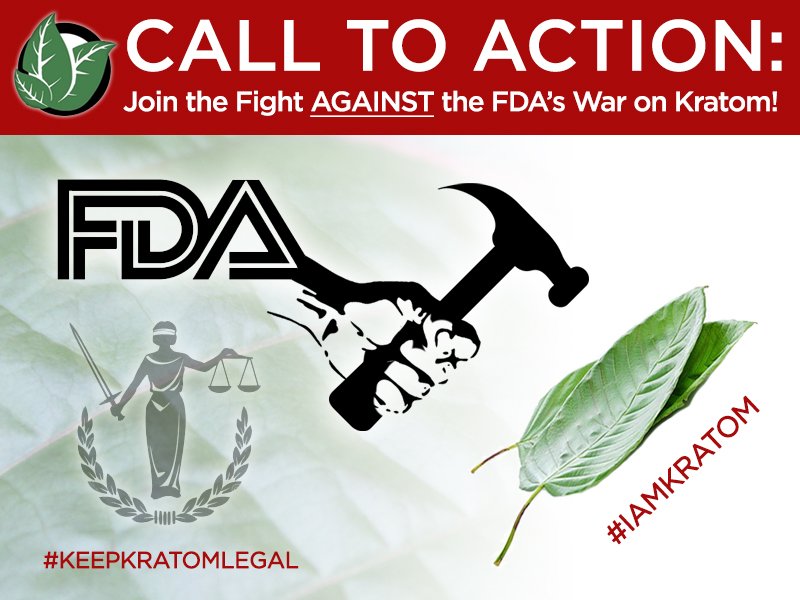 ---
---

Instructions via the American Kratom Association:
Some of the things to be doing as we are working on this ATTACK:
Start calling, writing and emailing your federal legislators:
Contact Your Congressperson (see letter template)

Contact Your Senator (see letter template)
Use the letter template below. However, when writing
WRITE:
Scott Gottlieb M.D.
Commissioner
U.S. Food and Drug Administration
10903 New Hampshire Ave
Silver Spring, MD 20993-0002
​
CALL the FDA:
"I am a responsible adult who consumes Kratom to improve my health and well-being and I urge you to reconsider your stance and look at the science in support of kratom as well as all the testimonies of people that have and continue to use kratom for their benefits."
1-888-INFO-FDA (1-888-463-6332)
FDA Contact PAGE
​
EMAIL your story to the FDA:
Letter Template*
*It's important not to copy and paste, please use your own words
We need YOUR help to fight the FDA and their negative info being released to the public.
My name is ________, I'm a __-year old _________ from _________
I would like to voice my support of Kratom and my disagreement with the FDA and their recent smear campaign. This puts kratom, a plant helping millions of people suffering chronic and acute mental and physical conditions that is also safely easing the nation's opiate epidemic problem naturally, on the same level as illegal drugs like heroin. It would also prevent further research which, to date, has shown kratom to be an effective painkiller that does not cause respiratory depression; the main cause of death from opiate overdose.
-How you came to use kratom….. (did you learn about it in a chronic pain support group, etc?)
-What ailments you suffer, what treatments haven't worked (prescriptions, surgery, etc.), how long you've been dealing with your condition, how long you've been using kratom and how many/what medications you've been able to quit.
-What kratom means to you (has it given you your life back, have you gone back to work, can you play with your, exercise or travel, etc., something anecdotal about why kratom is important and should be available).
-Conclusion: Kratom is a safe alternative to pharmaceutical drugs with important benefits for many issues and has changed my life. I fear this action by the FDA will only lead to more tragic deaths of victims of the opiate epidemic, maybe even my own (if you think this may lead to illicit drug use). I know that my own quality of life as a productive member of society will not be the same without kratom.
If you have questions about kratom, please visit https://www.americankratom.org/
Thank you for your time and service to the state.
Sincerely,
— Include your name, address and phone number.
Please be professional and polite, keeping it as short as possible.
SUBMIT your success stories, testimonials on our WEBSITE. There is strength in numbers:
SHARE this AKA INFOGRAPHIC:
There are multiple other studies and info available to use and share here:
When you see a negative story, comment and use these links to educate them in a polite, professional and courteous manner.
When you see a positive story, take the time to share it and tell them thank you.
​
Send these documents/link to journalist, legislators, law enforcement, friends and family so hopefully we can educate everybody including those higher up to better understand where Kratom stands as a beneficial herb.
JOIN our FACEBOOK GROUP for up-to-the-minute updates and join the #IAMKRATOM Group photo & video campaign.
Be sure to check out the over 1,000+ (and counting) videos from the continuing #IamKratom online CAMPAIGN
JOIN our AKA

FORUM
​
JOIN the Twitter campaign:
Tweet to all the influencers you can find, follow us on twitter, retweet, tag #FDA on all your tweets and remember to use the #IAMKRATOM #KEEPKRATOMLEGAL #TEAMAKA hashtags in all your tweets @SGottliebFDA @US_FDAAKA Twitter
​
SIGN

the whitehouse.gov PETITION created by Andrew Turner:
(he asked us to remind folks that he only has one fully functioning hand, his bad hand hit publish BEFORE he had the necessary corrections and edits in place and that particular site does not allow for corrections to be made) Thank you Andrew Turner for creating this petition and allowing us to share it.
At this time, we are asking that you NOT contact your legislators, state or federal as it is not at that point Yet. We will update IF that becomes necessary.
For all of our vendor supporters:
Please share this with your customers, email database, etc.
@SGottliebFDA